Grease Performance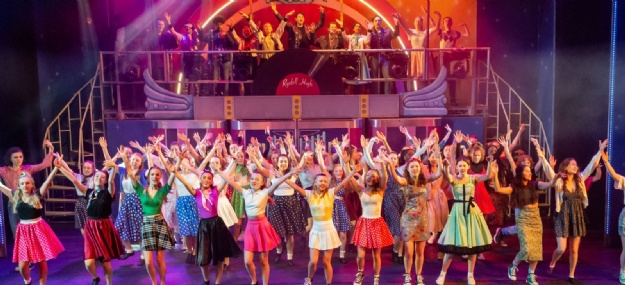 An electrifyin' experience at Thornden Hall!
With just moments before the cast are called to the stage before the opening night of Grease, the atmosphere backstage feels electrically charged with nerves and anticipation. Leather jackets are donned, and ponytails pulled high with hairspray whilst students take deep breaths standing in the wings. This was an opening night like no other for Thornden's Performing Arts department; in May 2018 Thornden Hall's roof suffered from such significant damage that the theatre had to close for three years' worth of repairs. The production at the time - Guys and Dolls - was rescheduled and performed finally in 2019 in a make-shift theatre in the Sports Hall. The start of the pandemic sadly put a halt to all further large-scale productions...until now.
With a cast, crew and band of nearly 150 students, Grease was a huge undertaking and quite the spectacle on stage. The curtain call made everyone feel a huge wave of emotion each night - I know how much this opportunity meant to our students who have missed out on so much by the Hall closure and the pandemic. It was such a joy to see our students loving working together on a production after missing out during recent years. I'm thankful to work with such a fantastic team and dedicated students who have worked crazy hours to make this production one to remember. Grease really was a triumphant success; each performance was a sell-out to cheering, dancing audiences and a standing ovation each night. Congratulations to everyone who took part in the production, and many thanks to the huge numbers of parents and local people who showed their support by booking tickets. Students can now look forward to the Last Dance as well as the Summer Concert and our next production which will be a play performed in the summer term. Thornden Performing Arts department is back!
Photos of Grease can be found on cwphotos.co.uk/Thornden. If your child was in the cast, they will have a username and password which can be used to access and purchase photos.
Hellen Smith, Head of Performing Arts